---
The recipient of the Recognized Young Dietitian of the Year Award is a dietitian 35 years of age or younger who has demonstrated leadership qualities and performance in dietetics. The 2019 recipient is Rebecca Clyde.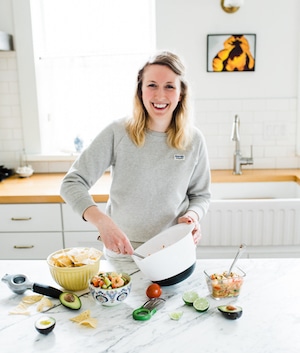 Rebecca is a Salt Lake City based RD who runs Nourish Nutrition Blog where she shares quick & exciting recipes and health related tips for women who are cooking for one and fine-tunes her message of realistic nutrition and wellness. She is a sought-after speaker for topics such as Health-At-Every-Size, intuitive eating, body positivity, and guilt-free eating.
She also works as a food photographer working for various food companies, bloggers, and the Academy of Nutrition & Dietetics. She has served on the UAND board in the Marketing Pillar and is now the Membership Pillar Chair and networking director. She received her dietetics degree at BYU and master's from the University of Utah and loves both schools. 
Rebecca builds up the dietitians around her. She takes the time to build relationships with her peers and helps them recognize their accomplishments and potential. In recognition of her leadership and impact on dietitians in Utah, as well as her impact on the health of the citizens of Utah and those she reaches through online platforms, UAND is pleased to present Rebecca Clyde as the Recognized Young Dietitian of the Year.
Congratulations Rebecca!
---
Utah dietitians are doing great things!  Take the opportunity to nominate yourself or a fellow RDN for one of the UAND awards. For more information and to submit the nomination form, click here. The deadline for nominations is February 15th.