Meet UAND Member Rickelle Richards, PhD, MPH, RDN, CD!
---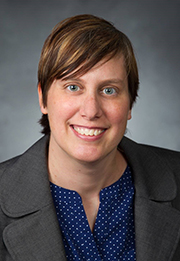 How many years have you been a dietitian? How long have you been a member of UAND?
11 years for both
Where do you currently work and what do you love about it?
Brigham Young University, interaction with students is the most rewarding part of my job. I was mentored by so many faculty and other health professionals throughout my education and career, that I feel grateful that I have the opportunity to pay it forward.
How has UAND membership been of value to you and your career?
The associations I have made with others through UAND has been invaluable in helping me become a better teacher, especially as I served in various public policy roles in UAND. The opportunity to have UAND pay for me to advocate for nutrition/dietetics-related policy issues in Washington DC and in the state of Utah strengthened my connection to the dietetics profession, UAND and my ability to teach real-life experiences to my students.
What is the best advice that you have ever received?
Be honest with myself in recognizing my limits in committing to too many endeavors and learn how to graciously say "no" at times.
How do you spend your free time?
With family
What is your favorite book (or movie)?
It's a Wonderful Life
What advice do you have for young dietitians?
Remember to have balance in life and take time to learn from every experience.
What's your favorite moment of your career so far?
I have many favorite moments…but, one that comes to mind, is the moment in which I see a student suddenly understand a concept that they previously didn't.
What is your favorite recipe or food tradition?
Irish Beef Stew
---
Would you like to be featured? Submit your Member Spotlight Questionnaire here.