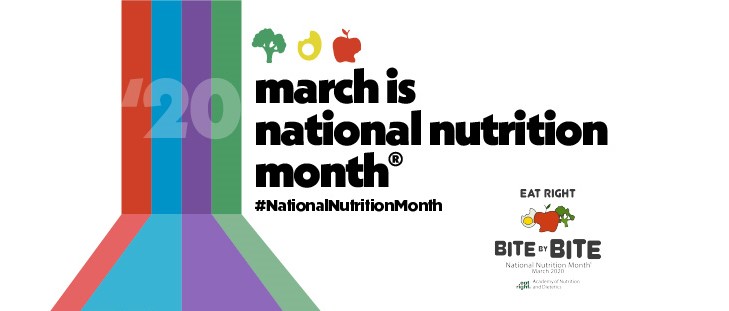 ---
National Nutrition Month starts next week! Are you ready to Eat Right, Bite by Bite?
From the Academy: This year's theme — Eat Right, Bite by Bite — supports the philosophy that every little bit (or bite!) of nutrition is a step in the right direction. Small goals and changes can have a cumulative healthful effect, and nutrition doesn't have to be overwhelming!
For each week of National Nutrition Month, the focus will be on a different key message that you can share with your patients or clients. The 4 key messages are:

For each week, there are 5 tips to support each key message to help your clients get started! The Academy has provided a ton of great resources including tip sheets and handouts, games, planning materials, and press releases! They also have Spanish tip sheets.
What are you doing to promote this year's campaign? The Academy has created a list of some fun ideas including: 
Arrange a cooking demo

Start a month-long nutrition/wellness challenge at work or with your clients

Organize a food donation campaign for a local food pantry or shelter

Volunteer your time—teach a nutrition class to members of your community

Take a field trip to a farmer's market or a local farm.
If you need some fun promotional products, check out the National Nutrition Month Products Catalog. They have all kinds fun items—from T-shirts and lunch boxes to ID tag holders and RD lapel pins. 
Apply for our National Nutrition Month Grant! We award one $600 grant to UAND members working to promote NNM. Fill out the application and email to socialmedia@ eatrightutah.org.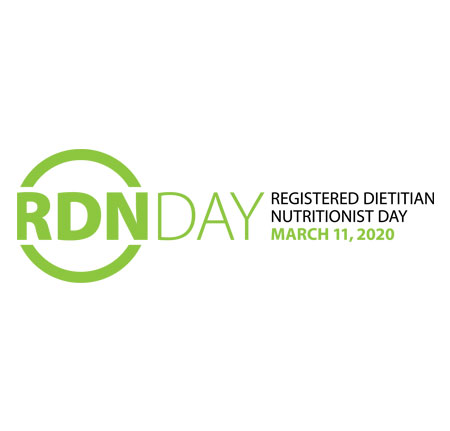 And don't forget about Registered Dietitian Nutritionist Day on March 11th! Make sure to celebrate you and your colleagues for their dedication and recognize them as nutrition experts! 
---
Let us know what you are doing to celebrate National Nutrition Month! Send your pictures with a description of what you did to socialmedia@eatrightutah.org and we'll share it on the blog!